Diamond painting is one of America's favorite pastimes; it is an excellent combination of kicking it back with creativity to produce spectacular art forms. Even folks who are not accustomed to painting are getting into it, with DIY diamond art painting kits from various stores enabling them to take their crafts to the next level.
Diamond Art Explained
There's nothing like DIY sparkling art to bring joy to these dreich times. It's a therapeutic and relaxing way that also results in some fun artwork.
Arranging the gems correctly helps stay mindful. And what's more, you don't need a lot to get started. Also, it's not real diamonds because that will be way too expensive.
Diamond art painting is a mosaic-style art created by layering small colored gems, aka diamonds, onto a coded canvas, often an adhesive board. The small shiny stones result in a vibrant piece of art.
If you are getting a quality kit, it should come with all of the tools and instructions you need to get started.
Diamond art is not hard, however, it can be time consuming to make sure every piece is exactly where it needs to be. The good news is that most kits come with all of the materials and tools you need, as well as instructions to make a beautiful image.
The most important thing to do, to make it as easy as possible is to make sure your canvas is completely flat, and you have all of the parts you need to finish the painting.
Must have tools for Diamond Art Painting
Pre-corded canvas where you will create your choice image
Several small shiny rhinestones in different colors
Craft tray to hold your precious stones
A stylus for use to place the diamonds
A wax caddy
DIY diamond painting kits will include all of the above. You just need to dip the stylus into the wax, then pick the gem that matches the particular section of the canvas you are working on and place it in the pre-marked area. No much effort is required; the adhesive canvas will hold the gem in position.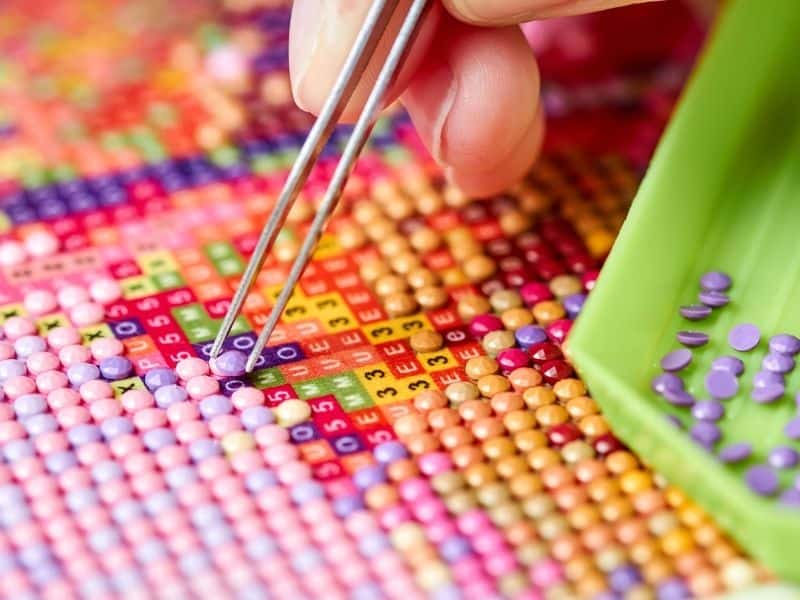 Choosing A Diamond Art Kit
If you are new to diamond art painting, choosing your first kit can be difficult. There are so many of them available now, in physical stores and online. How to choose a diamond art painting kit?
Choose a full diamond art painting kit that includes all the supplies such as a quality coded canvas with adhesive, gemstones, desirable imagery, and required tools to complete the painting.
Let's take a closer look at how to choose a kit.
Appealing Image
Does the subject matter please you? This is something you are going to be staring at for a long, so pick the desirable image.
Size Of The Kit
The size of the piece determines how long it will take to complete; plus, the amount of space it will require in your house. While at it, check the size of the diamonds too, smaller crystals produce less intricate images while larger crystals produce sharper images.
Canvas Type
Type of canvas: is it a full or partial drill? Full drill canvas will be fully covered in gems, unlike partial drills, therefore, taking more time to complete.
Ease Of Use
Ease of use: Do they have the image of the finished project, and how clear are the instructions?
Supplies
Supplies: a good kit must include all supplies needed, from the crystals to the gum or wax.
The Best Diamond Art Painting Kits
This kit includes 100 percent accurate printed cloth, 5D crystal-shaped diamonds and pearls, a clay plate, and a stylus pen to get you started on your sacred wall decoration. Dreamcatchers are used to symbolize hope and healing. You can put it above your child's bed as a protective decoration, hang it on walls or gift it to friends who need some good spirit in their lives.
Using the kit is easy. It comes with comprehensive instructions to lay the precious stones and comes out colorful and pretty. You can complete the project in a day.
Do you love birds? Everybody loves birds; they are colorful and majestic, and sometimes mysterious. With the Diamond Dots 28cm X 29cm miniature magic, you can capture that splendor with small diamond-like facets in bright colors. Nothing like a bird painting in diamonds to get your craft flying.
The canvas is 100percent woven polyester, printed using non-toxic, stretch-resistant ink for a longer-lasting piece of art. This kit is for people of all skill levels. It produces a stunning, shimmery image that sparkles from a distance. You can frame it and hang it on your walls or gift it to your friends or family.
Number Kit's Diamond Painting Beach is another fantastic kit to get you started on diamond artwork. It combines 5D rhinestone crystals in various colors and a high-quality oil painting canvas to create a fantastic image of sunset-lit beach. This is a meditative project to take on with your special person. The kit is very straightforward to use, and once you are done, you can hang it on your walls for a fantastic feel.
You may not be able to tour your favorite places anymore, but this kit allows you to use diamonds to create the image of a lake village lit by the bright afternoon sun. Reviewers have called it dreamy and suited for the times. Indeed, if you don't get it early, stores might just run out of it.
You love Van Gogh, then this starry night artwork in 5D crystals is going to look right at home on your walls once you've completed it. The kit is from Faraway Art and Craft and contains rhinestone beads, an oil painting canvas, tweezers, and a stone tray. It's very easy to use, and once you're done, it will sparkle on your walls in neon, orange and yellow. Reviewers have called it fun and beautiful.
Is Diamond Painting Hard to Do?
Diamond painting is a fun project to get into no matter your crafting skill level. Is diamond art painting hard to do?
Diamond painting is not hard to do. Kits contain all supplies and instructions, plus images of the finished project, so you'll know what to aim for. It's just that great mindfulness is needed when placing the gems.
Where To Find Diamond Art Painting Kits
Amazon
Does Amazon sell diamond art painting kits?
Yes, Amazon does sell diamond art painting kits. They have them in various designs and awesome quality. Free delivery is even possible for Prime members.
Walmart
Does Walmart sell diamond art painting kits?
Yes, Walmart does sell diamond art painting kits. They offer various kits online with free shipping available on most orders. In addition, they carry diamond art painting kits in their stores in the craft section.
Target
Does Target sell diamond art painting kits?
Yes, Target sells diamond painting kits for users of all different ages. You can find the kits on their website with free shipping on most orders and you can find kits in their stores.
Frequently Asked Questions
What's the difference between diamond art and diamond painting?
Diamond art and diamond painting are essentially the same things. However, diamond painting is similar to paint by numbers and maybe the more ideal choice for beginners. In diamond painting, the canvas comes marked so you know where to place every piece.
What is the pink stuff in diamond art?
It is a variety of wax designed to be used with the pen that came with the kit. It is used to help you pick up the diamonds more easily and have better dexterity in moving and sorting the pieces.
Is Diamond painting wax toxic?
Diamond painting wax is generally not toxic, however, check any kit you may potentially buy to make sure it is also non-toxic. In addition, check the manufacturer to ensure you are getting a quality product.
How do you seal a diamond painting?
Seal a diamond painting by gently brushing the surface clear of any dust, dirt or debris. Then gently coat the diamond painting with mod podge sealer. This will help protect your painting and give it better durability.
Conclusion
In conclusion, while diamond art may seem intimidating and time consuming at first, you can still start as a beginner and get great results with a diamond painting kit.
Just make sure you are getting a quality kit from a reputable manufacturer that includes all of the tools and materials you need to create an awesome aesthetically pleasing piece of art.
Good luck, and have fun!